So, I just finished watching Netflix original movie called "Extinction", starring Michael Peña (you may know him from Ant-Man, and the upcoming 4th season of Narcos), Lizzy Caplan (you may know her from Cloverfield, Now You See Me 2) and Mike Colter (you will definitely know him from Luck Cage on Netflix), and wanted to give a brief review.
Unfortunately for anyone who's logged onto Netflix, they would have seen a preview of "Extinction", which basically told you a lot about the movie but left a very surprising twist to make up for that "spoiler" that was a very extended and somewhat detailed trailer.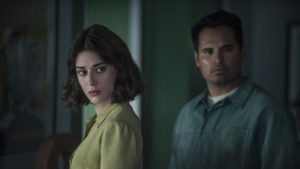 Peter, Michael Peña, keeps having these very vivid nightmares that are starting to take a toll on him and his family. Not being able to figure out what these dreams mean and the reason he is having it, he tries to seek help for them, as most people would do, but immediately decides otherwise, to the somewhat betterment to everyone.
Not to give away too much about the movie, what I can say about "Extinction", is that it deals with a lot of "what ifs", with technological advancement and what we'd eventually have to face in a probably, not so distant future, if we keep pushing the limits. Hopefully, with the simple message provided by the movie, we as a human race, can start thinking about some of these consequences and start thinking about the ethical dilemma we may have to face, or else we'd be facing our own "extinction".
Check out Extinction on Netflix! You wouldn't be disappointed.
Related Posts