Cardio is such an important part of weight loss; at least I personally believe that. I know a lot of people will just focus on diet, and call it a day. Of course, with a reduction in take, naturally you will lose weight. But for "quick" results, cardio is the key combined with diet. I guess that's why they always recommend; diet AND exercise, for optimum weight loss. Also, I believe exercise in the form of cardio, is so good for the overall health that it's a given, that it should be done.
Unfortunately, cardio sucks. You get out of breath, feel as if you're probably going to find out and recognize how unfit you really are. I think it's that reality, that scares people; including myself, and prevents us from really doing it.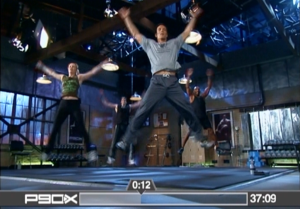 I have come to realize and appreciate that cardio is the extra part of my routine, that will help me reduce the body fat, quicker. I have a goal I want to meet, and weight lifting with dieting, isn't cutting it. Also, being as I am not willing to drop my calories below 2000, I will have to up my activity, if I want to drop the fat quicker.
This is where P90x Kenpo comes into play. I used to do this a couple of years ago, when I was in my cutting phase (losing body fat after bulking) and I just loved how active the cardio session is. I mean, what's more exciting than kicking and punching? It makes you feel as if you are actually moving, rather than just doing a set of jumping jacks in a row, or doing a set of jumping ropes. Pretty boring stuff. But with P90x – Kenpo, it's interesting and also you're improving on your balance and flexibility; which is always a plus as it carries over to weight lifting also.
Unfortunately, my endurance sucks. So, the video total is about 46 minutes and that includes a nice stretch session in the beginning and a kind of cool down at the end. The stretching is just intense, it involves running stretches, doing crescent poses and other yoga poses. So not only is it helping you get prepared for all the punching and kicking that's going on in the cardio session; yoga is known to help with improving posture, flexibility, blood flow, preventing cartilage and joint breakdown, protects the spine, helps with the digestive system, improves bone health…etc. The list goes on and on. So why not do a cardio workout that incorporates some serious stretching action right before the session?
I did about 15 minutes of the actual punching and kicking, bad-ass-ness. Although, kudos to me, I didn't fall once with the stretching. A few months ago when I tried doing Kenpo and the stretching, I couldn't do crescent poses, or prayer twists without falling over. So that's an improvement!
Related Posts