Today I am going to attempt to make Chicken in Mushroom Sauce. It's an actual dish that my cafeteria at my hospital has, and when I say it's delicious, that's just an understatement! I have been wanting to do this for a while, but haven't had the courage as I am not much of a cook. I still sometimes video chat with my mom, to make certain meals that I enjoy but don't feel confident making it on my own.
The recipe I am following is from the Tesco's Real Food webpage and the ingredients include:
The exact method I am going to follow, per the webpage:
I followed the method to the letter, but replaced chicken breast with chicken thighs. I also, baked my chicken, instead of frying it in the frying pan. Afterwards, I placed the chicken into the frying pan, after I had mixed up all the ingredients. For the chicken stock, I used 1 ASDA chicken stock cube in the 200 ml, instead the 450 ml that the package recommends. I also wanted to thicken the sauce a bit because the ingredients eventually made the sauce a little too watery, so I added flour. That's generally what I have been told to add to sauces that are too watery, if you do not have corn starch. I will have to warn, that if you do not have corn starch, you either get it or risk getting clumps in your sauce from using flour. The thing with flour, is that when it clumps up, it can be a little discouraging if you're a first time cook like myself. So I would suggest to using a whisk and beat the sauce a bit, to help break up those clumps.
During cooking:
After cooking: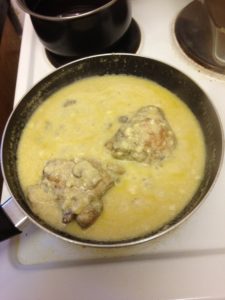 It tasted absolutely awesome!
Read more at Tesco's Real Food Webpage
Related Posts