So, just a note, which I will elaborate even more on in another post, I have reduced my calories to 1600. I am in need of reducing enough body fat without a few weeks, that allows me to be satisfied with my physique, by the time I am done with medical school; that's November 23rd.
With reduced calories, I have not decreased my physical activity. This should help shed the body fat, and as I push myself in the gym, and keep my protein relatively high, I should lean out nicely. Desperate times, calls for desperate measures!
I have gone back to the Chest/Biceps, Back/Triceps and Legs routine. Will still try to do legs twice a week, when I can. Hopefully being able to put more exercises into my routine, will also help me shed the body fat.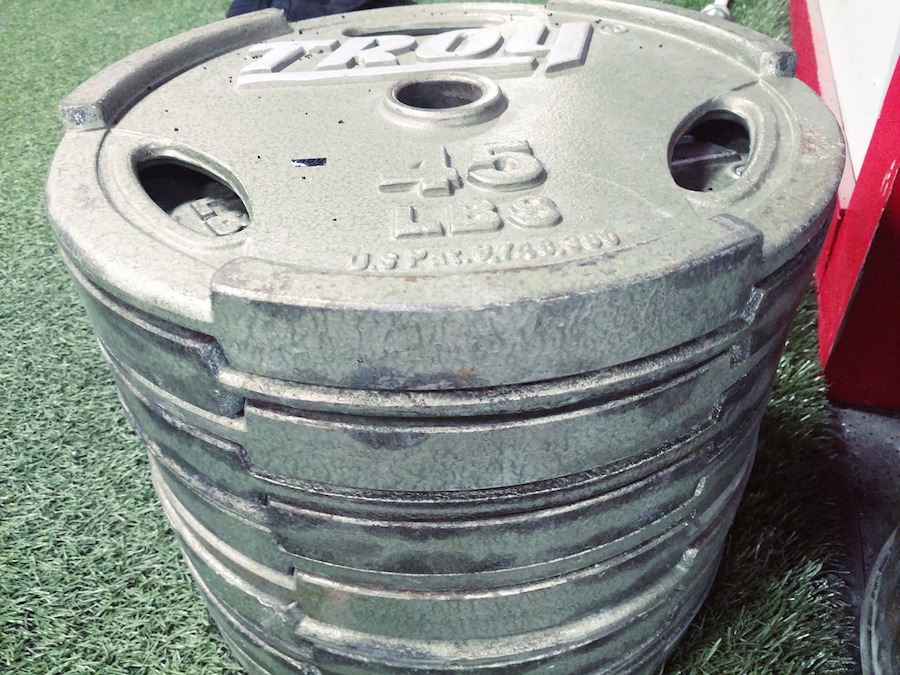 Chest
– flat barbell bench press: 90 lbs x 30, 110 lbs x 20, 135 lbs x 12, 145 lbs x 10, 155 lbs x 8
– decline smith machine bench press: 90 lbs x 10, 110 lbs x 8
– incline smith machine bench press: 45 lbs x 20, 65 lbs x 10, 90 lbs x 10
– incline db bench press: 18 kg x 20, 20 kg x 10, 22 kg x 10, 24 kg x 6

Biceps
– db alternate bicep curls: 9 kg x 20, 12 kg x 12, 14 kg x 10, 16 kg x 10, 18 kg x 8
– concentration curls: 10 kg x 10, 12 kg x 10, 14 kg x 10
– seated alternate db curls: 12 kg x 20, 14 kg x 10, 10
– hammer curls: 14 kg x 10, 16 kg x 10, 20 kg x 10
– ez-curls: 20 lbs x 20, 45 lbs x 10
Back
– lat pull downs: 45 kg x 10, 50 kg x 10, 55 kg x 5
– lat pull downs reverse-close grip: 45 kg x 10, 50 kg x 10, 55 kg x 10, 60 kg x 5
– barbell bent over rows: 90 lbs x 20, 110 lbs x 10, 135 lbs x 6, 10
– low cable rows: 25 kg x 12, 30 kg x 10, 35 kg x 10
Triceps
– one arm db behind head triceps extensions: 10 k x 10, 12 kg x 10, 14 kg x 8
– size cable extensions: 5 kg x 14, 7.5 kg x 12, 10 kg x 6
– triceps push downs: 15 kg x 20, 20 kg x 10, 25 kg x 10, 30 kg x 6
– smith machine close bench press: 20 kg x 20, 40 kg x 6
– one arm flat triceps extension: 8 kg x 14, 9 kg x 9, 6
– behind head cable extensions: 17.5 kg x 20, 20 kg x 14, 22.5 kg x 12, 25 kg x 10

Shoulders
– lateral raises: 8 kg x 10, 9 kg x 10, 10 kg x 8
– front raises: 8 kg x 14, 9 kg x 10, 10 kg x 10, 12 kg x 10
– db reverse butterflies: 8 kg x 15, 9 kg x 12, 10 kg x 10, 12 kg x 10
Related Posts