So, I am out in Watford, UK, for a study day that was set up by my school. The last time I went to a study day and ordered from the locals, was May 20th 2017, nearly a year ago. I made a blog entry about the restaurant I purchased from, and how awesome their food was and their service. This time, as always, hunger struck and I decided to order out. After having a good experience with Just-Eat (link to actual site here), when I went to Stoke Mandeville, it made sense to use them as my go to, to order food in a strange town that I don't know anything about.
As per custom, I purchased Chinese food as it tends to be the most affordable with the most amount of food you can get for your buck. So it's a good deal. This time around I purchased some sweet and sour pork balls, some chicken fried rice, chicken and sweet corn soup and finally, some spring king prawn rolls. Now, I'd have to say that Happy House in Stoke Mandeville, is still one the best Chinese food I have ever had, second to the one in Paris that the name I cannot ever recall. I learned from that experience to not to order with my stomach, and rather with my head so I didn't end up with too much food. Still, I did end up with left overs, enough that I can take home tomorrow.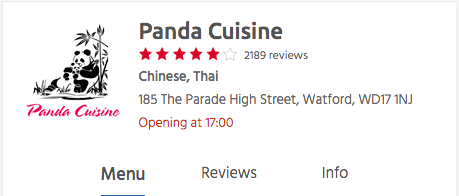 Anyways, I will start off with the soup; the chicken and sweet corn. It definitely held to the claim of being "sweet", because it was excessively so. I have never had chicken and sweet corn soup be that sweet. So that was a down side, but it was still pretty hot and pretty tasty overall. The sweet and sour pork balls; there was about 9 or 10 of them. There was a bit too much flour batter, but it was pretty good also. Half of the time, I threw away the batter as it was becoming a little overwhelming. The rice was decent, cannot say much about chicken fried rice, as it is a basic rice to order anyways. As for the spring king prawn rolls, those were decent also. I have never had spring king prawn rolls before and decided for a change to go for those instead of the regular chicken spring rolls. They clearly aren't that much seasoned, as a dish per say, but was decent enough dipping into the sweet and sour sauce that came with the pork balls.
Overall, I would say the food was fair enough. The service was quick because I pre-ordered my meal before the restaurant was scheduled to open, and they said that delivery would start at 6, and I purchased my food at around 4-ish. So technically, I had about 2 hours to wait but 30 minutes after the restaurant was open, I received my food. So, that was pretty impressive. They made sure to make my order right away and send it off, right away even though delivery technically started at 6. So that was a plus. They also actually listened this time, compared to other restaurants and brought utensils for me to use as I am staying at a hotel and would rather not request utensils for food I am purchasing from outside the hotel.
So, if I had to rate the restaurant based on the service and the quality of the food, I would give it a 4/5. If it had poor service, it would have gotten a 3/5 based on the food alone, so the service bumped it all up to a 4/5.
So if you're ever in Watford and want to try out a chinese restaurant, check out Panda Cuisine.
They can be found at Just-Eat and via their website.
Related Posts