My go to burger joint, used to be Smokeys, until it burned down last year and currently is taking a life time to reopen; hopefully by the end of September, per their Facebook page. So, in between, I haven't been eating that much burgers, unless I was over at The Quay or decided to take a visit to Bournemouth for something else (movies, chilling), and hopped into good ol' Five Guys (which to be honest, is the best tasting american burger, I could find in the UK).
But, Friday I just wanted a burger or any type. I have had some bad experiences choosing other burger joints when I was feeling for a burger, and being hugely disappointed. Some of the meat used were leathery and didn't seem like they were real beef; if that's a thing? I mean, if your burger is worst than Mc Donald's or Burger King, then you're definitely not doing it right. So I was very weary to give anyone a chance but I really wanted a burger-like meal. So, I decided to check out the comments on Just-Eat, for Burger related restaurants that were willing to deliver to me, and I came across Smokin Rooster.
Now, I didn't get myself a beef burger, because again, I was afraid of being disappointed, as I have been many times before. Instead, I decided to try this Piri Piri style of chicken, in a burger form, with some onion rings and called it a day. I figured they couldn't mess up grilling a chicken and adding their own spice of whatever, to make it Piri Piri. I also made sure to add that I wanted it hot and spicy, just for the extra kick, in case they somehow did mess up the chicken and it was stiffer than a damn rock.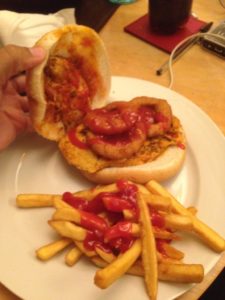 To my surprise and total excitement, I absolutely enjoyed the burger! It did take a while to arrive, as per some feedback and reviews by other customers, but it was worth it! It was absolutely juicy, and tasty. It was extra hot, and not acidic hot (as some people seem to confuse the two), but really hot. It also was temperature hot, and not soggy or stale, despite it arriving about 20 minutes later than it was suppose to.
So I have to say, Smokin Rooster did not disappoint and while I try to calm down the inner desire for a beef burger, while Smokeys fix up and get things going, I will definitely be purchasing more Piri Piri chicken burgers from Smokin Rooster!
Overall rating:
*Header courtesy of Smokin Rooster.
Related Posts