A while ago, I wrote a review about Deliveroo, a delivery service for restaurants. Around that time, for my zip code, there were like 9-12 restaurants available for me to choose from. This limited my choices, obviously, and it generally became my go to for KFC deliveries than anything else. I also reviewed about a fish and chips restaurant called Harlees, before I went on vacation, earlier this year. They had very delicious seafood with some awesome serving sizes; worth every penny. Unfortunately, they suddenly disappeared as a choice from Deliveroo, and my fish and chips option basically went from 2 to 0. So there is another restaurant that provides fish and chips, but I am a shrimp or calamari type of seafood person. So, it limited my options. Thankfully, recently a new fish and chips restaurant has shown up on Deliveroo; Nick The Fish.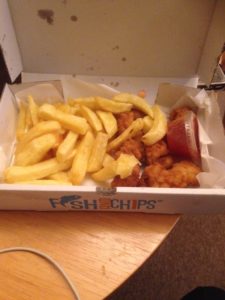 As always, I tend to get a fix on something and need it, as the only thing that will really satisfy my hunger. Some squid with some fries, just felt like the perfect combination to satisfy my Saturday night. I took the plunge, figured whether or not the squid was going to be fried in some batter, I was going to enjoy it. Decided to get an order of squid, a small serving of fries and a drink. It added up to about £11 (including Deliveroo's £2.50 delivery fee) and came exactly on time.
So what did I think? It was absolutely delicious. The batter to squid ratio was perfect. There wasn't too much batter, where it felt that it was more batter than actual meat. The fries were nice and big, steak fries. I was definitely satisfied by this meal and will definitely be purchasing from Nick The Fish, again in the future. I just hope it doesn't disappear like Harlees did.
Overall rating:
Related Posts